This kindergarten workbook is prepared for writing practice for kindergarten. The practices of books starting from easy to hard. On the first pages, the first things made it easy to learn to write to the long and difficult shapes.
Kids' finger muscles need to practice to develop. If you give small and difficult writing duties at the beginning, they will be forced to do. This free and easy printable book helps you to give her or his daily practices.
This is a good 98 pages source for preschool workbooks age 3 and, for preschool workbooks age 4.
And also you can use it for your kid or for your students as a tracing book for kids ages 4-8.
With this book, tracing letters and numbers for preschool will more easy because of their preparation. And also you can use this book for tracing letters for kids ages 3-5. This contains different activities for tracing letters and the alphabet.
And another book, for number tracing activities, is here.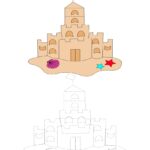 All these books help kids learn to write.
If you need handwriting practice paper you can reach the blank ones from here and different image decorated ones from here.
People can be interested in this book who are looking for kindergarten workbook or kindergarten books, preschool workbooks, preschool activity book, activity books for kids, activity book for 4-year-olds, toddler activity book, pre k workbook ages 3 to 5, pre k workbook, preschool workbook.