Toddler Color Sorting Game
I newly made a basic game for toddlers and early kindergarten students. All pages are prepared for kindergarten and toddler level.
Just print it, cut the shapes, and sorting them into their own colors. There are some sample pages.
Enjoy it.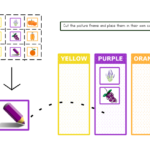 Maybe people can be interested in who is looking for, kindergarten workbook, kids book, kid books, toddler activity book, logic puzzles, kindergarten books, activity book, kids activity book, activity books, mazes for kids ages 2-3, prek workbooks age 3-5, toddler workbook.